>> FOR INFO ABOUT ASTRAWARDS CLICK HERE <<
I'm a bit late this month cause I have been on vacation this first week of March. Anyway..here they are!
"FEBRUARY 2014 ASTRAWARDS!"
♚ Best model of the month ♚
Locuala Madruga!
Her outfit for the "Snapped Love story" Show hosted by BLVD was truly amazing! I loved everything, especially the scenography created that she shown during the catwalk. Locu always surprises me! ♥
Picture credits: Locuala Madruga
♚ Best stylist of the month ♚
Cieleste Magic & Gwen Aloix!
First of all I love the Project ran by Gwen, that is so creative! So I have decided to let this couple win, cause they are so cool together! Their style rocks.
Credits: Picture and blog by Gwen Aloix (Taxi to her blog) Cieleste and Gwen (models)
♚ Best blogger of the month ♚
Caoimhe Lionheart!
I don't know how this incredible woman can always inspire me! Her stylings are superb, I love the spirt of this blog, also reading all the Cao's stories ehehe 😀 Moreover Cao posts a lot, so her blog is full of news, good to grab some shopping ideas! Go go go, go to visit her blog..!
Picture credits: Caoimhe Lionheart
♚ Best New-born Model of the month ♚
Lillibet Resident!
She is so nice! But it's not for that reason that Lilli is here: she is very talented. Atm she is running her model training, but she is also having fun with a new amazing blog. Take a look to her pictures, you won't regret. We will hear much about her in the future, I'm sure (:
Picture credits: Lillibet Resident
♚ Best photographer of the month ♚
Thati Boucher!
After a lil break she is back, beautifully back i would say! She did a lots of pictures in february and they are all amazing, so I've chosen Thati as February winner in this category!
Picture credits: Thati (photographer), Mohanie & Thati (models)
♚ Best picture of the month ♚
Polly Elan!
No words for this picture, it was so magic for me! I felt the emotion of the creativity. It has been realized for the "Once upon a time" lookbook by the Fashion Teller. Very well done Polly!
Picture credits: Polly Elan (photographer) Honey Bender (model)
♚ Best event of the month ♚
Love is in the air!
It has been hosted by Gizza during the Valentine's Day period. The designer that joined this event were amazing and lots of juicy releases had been sold. I loved so much the layout of the heart sim, with all the candies. Amazing! ♥ ♥ ♥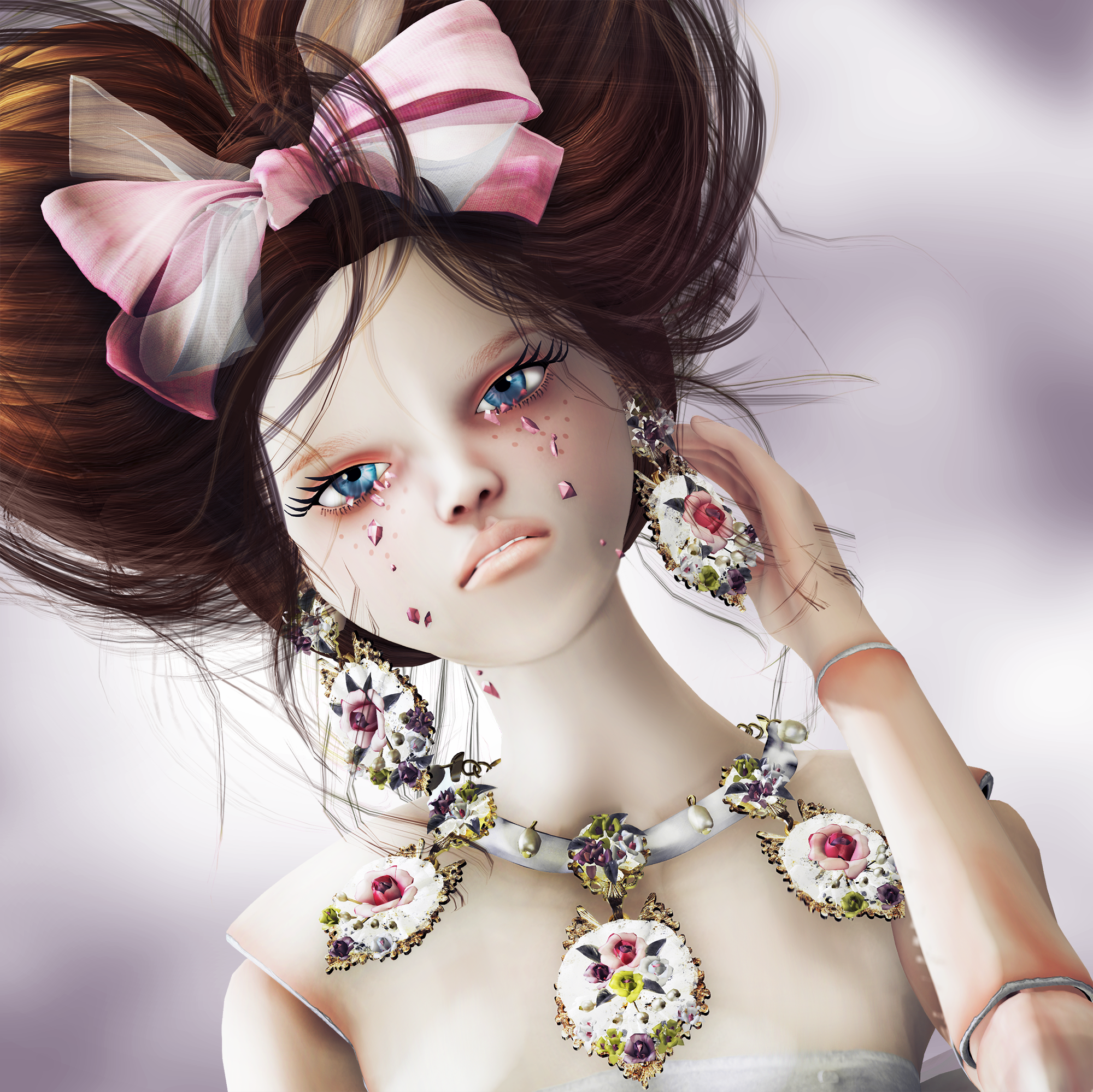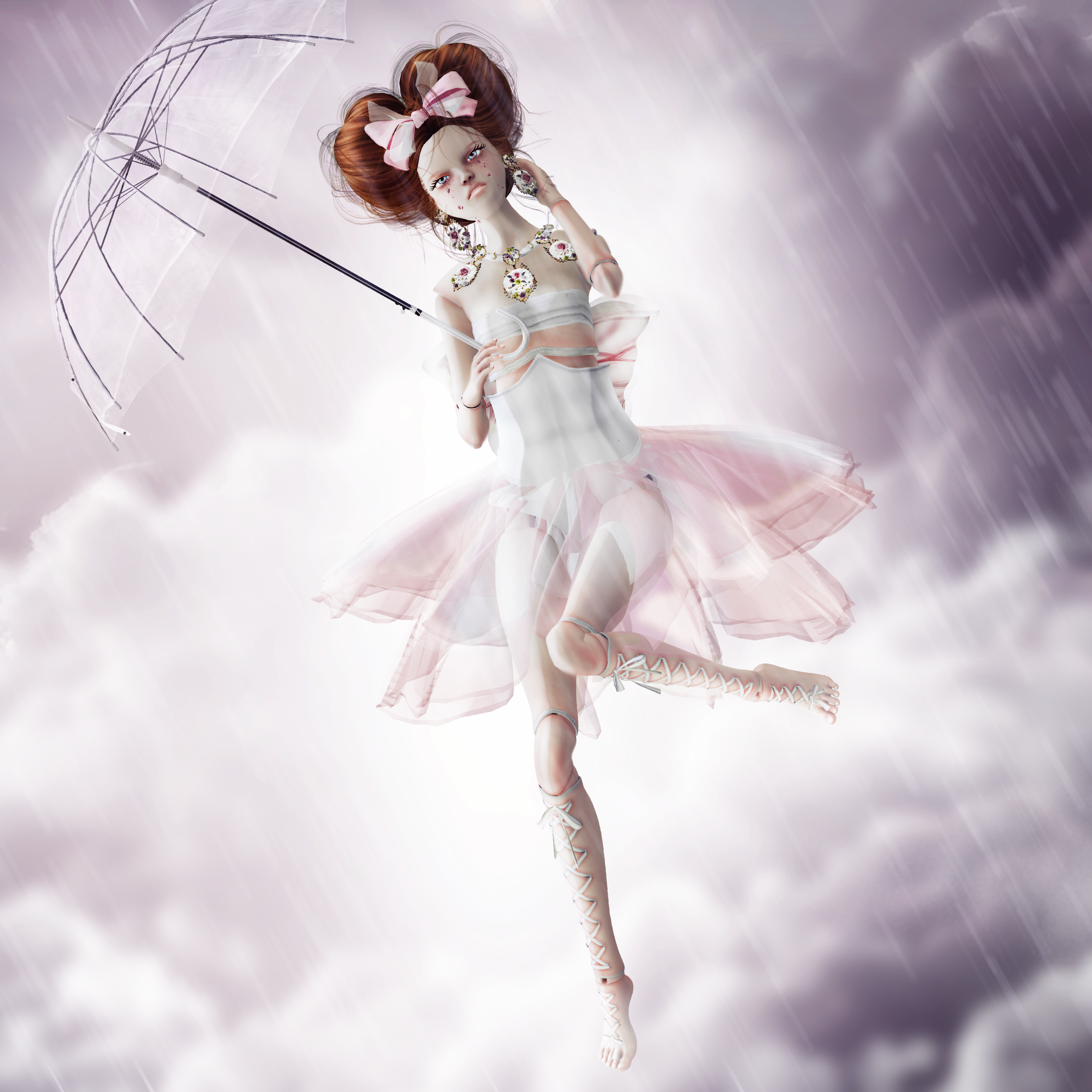 Picture credits: Astralia (model & photographer).
Featured: Chic Zafari (jewellery) and D!va (ribbon hair) for the love is in the air fair! [The dress is a mix and match of LPD pieces.]
——————————————————
♚ Special mention ♚
.PENUMBRA.!
This is not really a category, but more a wish of good luck to Fuzz Lennie and the whole Staff of this new organization. The events hosted are amazing and also the future projects will be great! So..let's see what happen and you better continue to be amazed by Penumbra (:
Picture credits: Astralia (photographer) Erik, Astralia, Habib, Audrey (models -from left-)
—————————————-
… And now the part related to designers! …
★ Best formal gown of the month★
Zanze!
I'm not very in love with gowns usually, but this one stolen my heart. [ZE] Vivienne comes in two colors and the mesh is awesome! All the details and the beautiful texture give to this dress a very classy style but also a particular look. Awesome!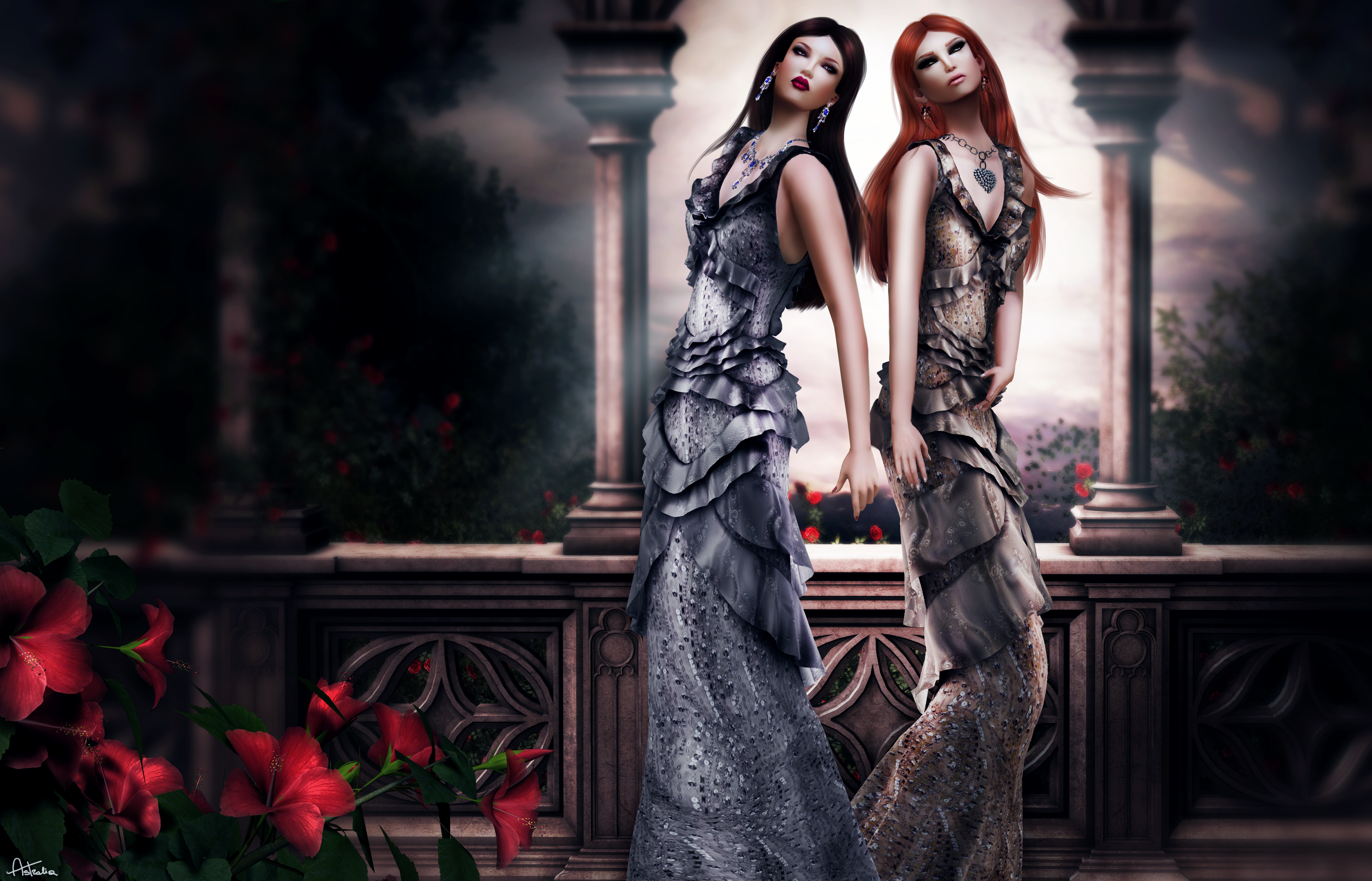 Picture credits: Astralia (photographer) Astralia & Fuzz Lennie (models)
★ Best shoes of the month★
AZOURY!

Another stunning piece released this month: AZOURY – Chromatics – Ballet Heels Shoe. They are so particular, so original! I have never seen something like that in sl since now. They are available in many ribbon and platform color shades, in this way they can fit all your outfits. Compatible with JD – My feet.
★ Best Casual Piece of the month★
Gizza!

Yes, two victories in a raw for Gizza in this category. This month the release that totally made me fall in love with it was the amazing Ribbon Dress. It comes in different colors, such as pink, red, black and kinda of a light pink (very very nice). Awwww, just too beautiful and classy. [Picture below]
★ Best hair release of the month★
ILLMATIC!
Ok, I love every kind of pigtails or things like that, so when i saw the ILLMATIC :: Kawaii Kawaii – Storm I was going to faint, I tell you! They are outstanding! So so so my style ♥ Thanks for creating them u.u [Piture below]
★ Best accessories of the month★
h.m.a.e.m. and Solidea Folies!

This a must! The h.m.a.e.m. – buffy clutch is incredible. It has been available at the Romance Gacha Event @l'accessories in different colors combinations. Funny, colorful and glamour! ANother incredible creation is the Giulia mask released in limited edition by Solidea Folies, for this round of the Couturier's Dock, one of the best face jewels ever in my own taste. Congrats beautiful ladies 😀
(wearing H.m.a.e.m clutch)
wearing GizzA – Ribbon Dress, ILLMATIC :: Kawaii Kawaii – Storm and *SoliDea FoliEs* Giulia Mask.
(Other: +Nuuna+ Iizi Makeups white and –Glam Affair –  Arm harness (Ladies) available @Limited Baazar)
Picture credtis: Astralia
————————————–
>>>>>>>>>> ♥ ♥ CONGRATS EVERYONE!!! ♥ ♥ <<<<<<<<<<<